It's The Water You Don't See
7/27/2015 (Permalink)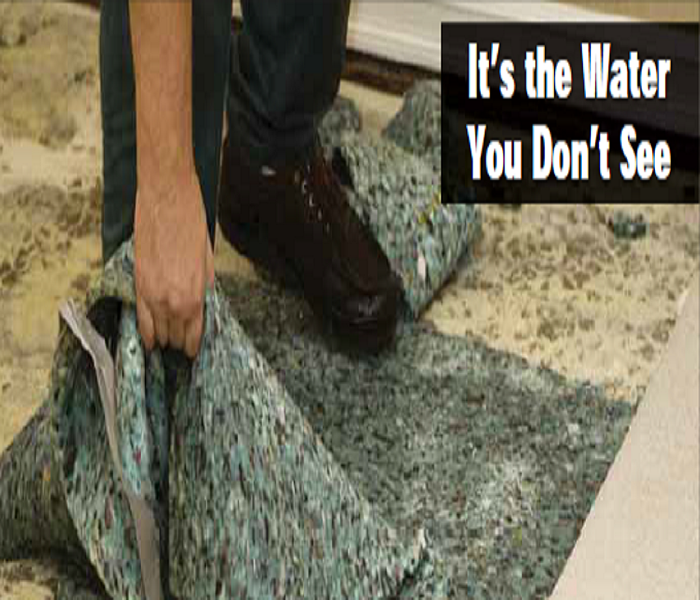 Even small water damages have the potential
to cause serious structural and indoor air
quality issues over time.
The key to avoiding costly future restoration
is to handle every water problem as a real
threat to your property. SERVPRO® Franchise
Professionals have the equipment, training and
experience to find and dry unseen water before
secondary damages occur. The proper equipment
makes a measurable difference in reducing the
damage expense during a fire or water loss.
When time matters, technology and equipment
must be counted on to perform. Your local
SERVPRO® Franchise Professionals will answer
your call with fast action and a full arsenal of
drying equipment. Here are a few of the tools
used by your local SERVPRO® Franchise
Professionals.
Moisture Sensors are used to detect moisture in carpets, baseboards and walls.
Moisture Meters (pictured) are used to determine the actual moisture content of various materials. The moisture tester provides accurate readings, allowing SERVPRO® Franchise Professionals to monitor the drying process.
Thermohygrometers measure temperature and relative humidity. When armed with this information, SERVPRO® Franchise Professionals can calculate and create an environment most condusive to drying. When facing a contaminated water loss, it is not only important to dry the structure, but the structure must also be disinfected and often deodorized.
Ultra Low-Volume (ULV) Foggers will atomize liquid deodorizing agents, producing a fine mist that can easily penetrate the site where odor-causing residues may accumulate. This device can also be used to inject fungicides and disinfectants into wall cavities and other hard-to-reach areas.
Thermal Foggers dispense solvent-based products by creating a dense fog. The fog consists of tiny particles of deodorant solution that attach to and neutralize odor causing particles.
The bottom line? Your local SERVPRO®
Franchise Professionals have the training and
equipment to help make it "Like it never even
happened."